Natalie and I just returned from Minneapolis, where we visited the General Mills Headquarters.   For complete transparency, General Mills has a blogger outreach program where they like to invite bloggers to learn about their products, their development plans, and their corporate plans for sustainability. The travel for these type of brand trips are generally paid for by the brand, although we aren't compensated for our time, nor are we promised sponsored posts for the future.
An interesting thing happens whenever we decide to mention Cheerios in a social media post.  We get messages from people with concerns about us promoting cereal as part of a healthy diet.  We are very concerned about the heath of your kids and are so grateful that you are too!  We definitely aren't looking to make cereal a central part of your families eating plan and would never think of telling you that your standards for a healthy diet are wrong.
However, we do strive to share healthier solutions for families that choose to include cereal in their meals and recipes.  We definitely look at peer reviewed research in the process to help us make informed decisions and do not believe scare tactics are effective in making food decisions.
The visit to Minneapolis
So, first, a bit about our trip!  One of our favorite reasons to accept a brand trip is to meet the amazing bloggers that we may have only communicated with online.  From left to right, we met Amy from Mom Spark, Laura from Momables, Marcie from Obviously Marvelous, the Cheerios bee guy, me, Natalie, Taylor from Food, Faith and Fitness, Kristen from Capturing Joy, The Lucky Charms guy, Sally from Real Mom Nutrition, Carrin from the Simple Moms, Karen from Baby sideburns, Amanda from Dude Mom, Sarah from Sarah Fit, and Amy from Living Locurto.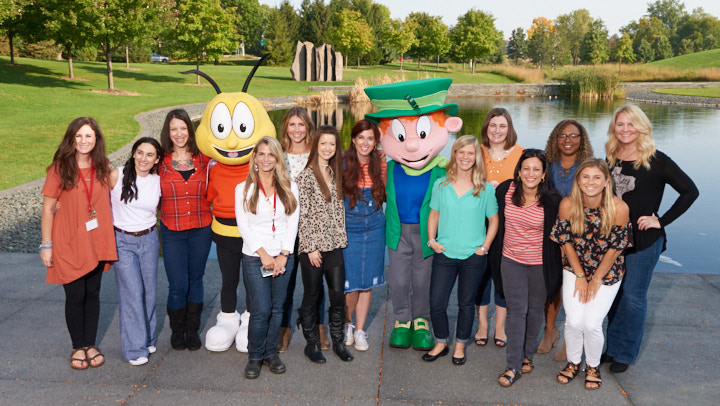 There is no shortage of sharing things with the other guests from our phones!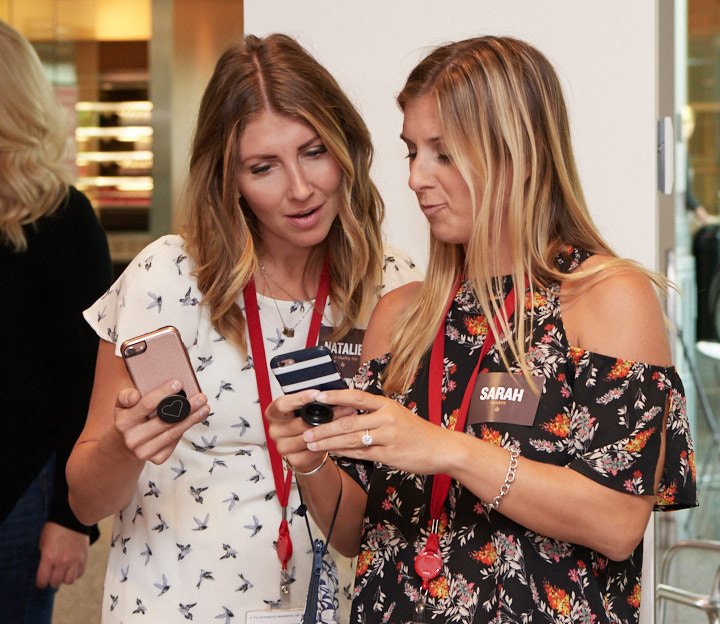 And lots of chatting over food and drinks!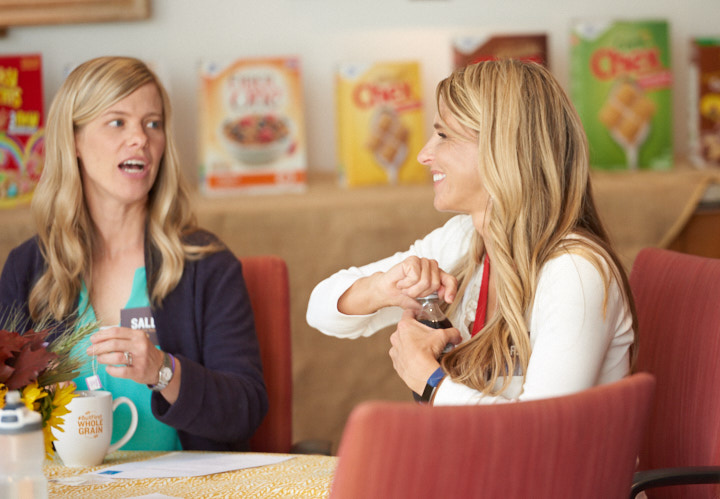 We also had fun creating new recipes using cereal! Natalie and I made a pumpkin cheesecake that turned out fabulous!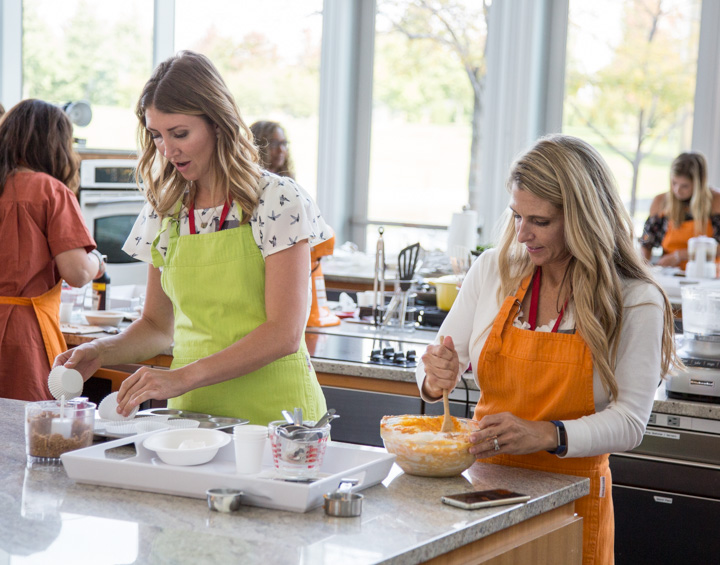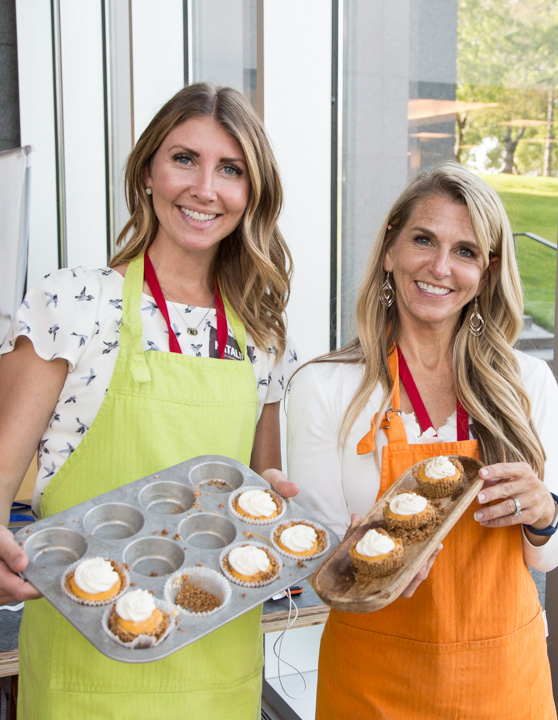 Are Cheerios bad for Kids?
So, what about those pesky Cheerios!  We aren't obligated in any way to share our opinion about Cheerios, but we do like to be authentic on the blog and like to share what works for us and what we feed our kids. And we do let them eat Cheerios.   Here are the reasons we are OK with that choice.
Cheerios are very low in sugar!  Probably the lowest in sugar of any cereal I can think of.  With only 1 gram of sugar per cup!
Cheerios are non-GMO. Despite many arguments to the contrary, Cheerios is non-GMO. Other General Mills cereal in their portfolio can not make the same claim.  But Cheerios can!
Cheerios are made with oats, not wheat, making them whole grain and gluten free.
The oats grown and selected by General Mills are grown to maximize nutrients and sustainability.
They include fiber! Yes, it's only 1 gram of soluble fiber per serving, but it's because they are made from whole oats.
They are fortified with iron.  We live in an amazing age where we can fortify our foods with essential nutrients that may be difficult to get, like Iron!
The glyphosate argument.  This was a new one for us, and our instagram feed had many concerning questions about the levels of glyphosates in Cheerios.  The official response from General Mills was:
We take a holistic approach to sustainable agriculture that includes reducing environmental impacts and strengthening our agricultural supply chain. Our products are safe and without question they meet regulatory safety levels. The EPA has researched this issue and has set rules that we follow as do farmers who grow crops including wheat and oats.  We continue to work closely with farmers, our suppliers and conservation organizations to ensure the appropriate, minimized use of pesticides on the crops and ingredients we use in our foods.
The official response from us is that, even in the presence of glyphosates, the levels are still in acceptable amounts. We also did research on the carcinogenic effect of glyphosates and found the latest research (as recently as  2016 has determined glyphosates to be "Not likely carcinogenic to humans" (footnote and full info below)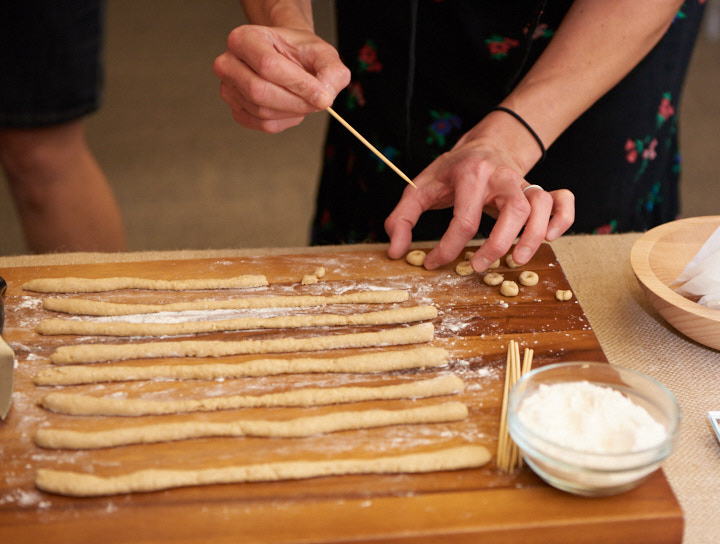 So, while we aren't trying to get everyone on board with eating Cheerios for breakfast, we do feel like it's a great option for our own kids, and can be a great way to get whole grains in during the day.  Also, if you want to try to make your OWN Cheerios, check out the recipe by Kath Eats here!
---
The latest from the EPA on Glyphosates
1.2 Evaluation of Carcinogenic Potential Since its registration, the carcinogenic potential of glyphosate has been evaluated by EPA several times. In 1985, the initial peer review of glyphosate was conducted in accordance with the Proposed Guidelines for Carcinogen Risk Assessment. The agency classified glyphosate as a Group C chemical (Possible Human Carcinogen), based on the presence of kidney tumors in male mice. In 1986, the agency requested that the FIFRA Scientific Advisory Panel (SAP) evaluate the carcinogenic potential of glyphosate. The panel determined that the data on renal tumors in male mice were equivocal (only an increase in adenomas was observed and the increase did not reach statistical significance). As a result, the panel recommended a Group D chemical classification (Not Classifiable as to Human Carcinogenicity) for glyphosate and advised the agency to issue a data call-in notice for further studies in rats and/or mice to clarify the unresolved questions (FIFRA SAP Report, 1986)3 . 1 Additional information on the Registration Review process can be found at: https://www.epa.gov/pesticidereevaluation/registration-review-process 2 Documents of the Registration Review can be found in the public docket at: EPA-HQ-OPP-2009-0361, accessible at www.regulations.gov. 3 Review available at: http://www.epa.gov/pesticides/chem_search/cleared_reviews/csr_PC-103601_24-Feb- 86_209.pdf Page 13 of 227 With the submission of two rat carcinogenicity studies following this data call-in, a second peer review was conducted in 1991 by the agency's Carcinogenicity Peer Review Committee (CPRC) to incorporate the new data. In accordance with the agency's 1986 Draft Guidelines for Carcinogen Risk Assessment, the CPRC classified glyphosate as a Group E Chemical: "Evidence of Non-Carcinogenicity for Humans" based upon lack of evidence for carcinogenicity in mice and rats and the lack of concern for mutagenicity (TXR# 0008897). Most recently, in September 2015, a third review was done by the Cancer Assessment Review Committee (CARC). Relevant glyphosate data available to EPA at that time for glyphosate were reevaluated, including studies submitted by the registrant and studies published in the open literature. The agency performed this evaluation in support of Registration Review in accordance with the 2005 Guidelines for Carcinogen Risk Assessment, classified glyphosate as "Not Likely to be Carcinogenic to Humans" (CARC, 2015; TXR #0057299). Recently, several international agencies have evaluated the carcinogenic potential of glyphosate. In March 2015, the International Agency for Research on Cancer (IARC), a subdivision of the World Health Organization (WHO), determined that glyphosate was a probable carcinogen (group 2A) (IARC, 2015). Later, in November 2015, the European Food Safety Authority (EFSA) determined that glyphosate was unlikely to pose a carcinogenic hazard to humans (EFSA, 2015). In May 2016, the Joint Food and Agriculture Organization (FAO)/WHO Meeting on Pesticide Residues (JMPR), another subdivision of the WHO, concluded that glyphosate was unlikely to pose a carcinogenic risk to humans from exposure through the diet (JMPR, 2016). Some individual countries (e.g., France, Sweden) have been moving to ban glyphosate based on the IARC decision, while other countries (e.g., Japan, Canada) have continued to support their conclusion that glyphosate is unlikely to pose a carcinogenic risk to humans. The recent peer review performed by CARC served as an initial analysis to update the data evaluation for glyphosate at that time. Based on an evaluation of the studies included in the recent analyses by IARC, JMPR, and EFSA, the agency then became aware of additional relevant studies not available to EPA. As a result, EPA also requested information from registrants about studies that existed, but had never been submitted to the agency. The current evaluation incorporates these additional studies. In addition, the Agency conducted a systematic review of the open literature and toxicological databases for glyphosate by using a draft "Framework for Incorporating Human Epidemiologic & Incident Data in Health Risk Assessment". As such, the current evaluation also provides a more thorough evaluation than the 2015 CARC review  
The post Cheerios and our Trip to General Mills appeared first on Super Healthy Kids.